Luxury Lifestyle Magazine For The Affluent
Chalet Edelweiss UNWIND – 21st to 23rd October 2022
Beer, one of the oldest alcoholic beverages in the world. From 8500BC (estimated) till today, beer has been consumed in various ways, and for many reasons. Beer has also grown in terms of types and flavours; one good reason to visit Munich, Germany every year from mid-September to early October.
Germany definitely is known for her beers, and so is neighbouring Austria. One of these brands is Edelweiss, brewed by Hofbräu Kaltenhausen that originated from the Hallein region near Salzburg, a city in Austria that neighbours Germany. Edelweiss dates back to 1475 with its name coming from a flower. Edelweiss Weißbier or wheat beer is a delicious beer with a fruity flavour.
"One of the highlights here at Chalet Edelweiss UNWIND is the performances from various local and international artists…"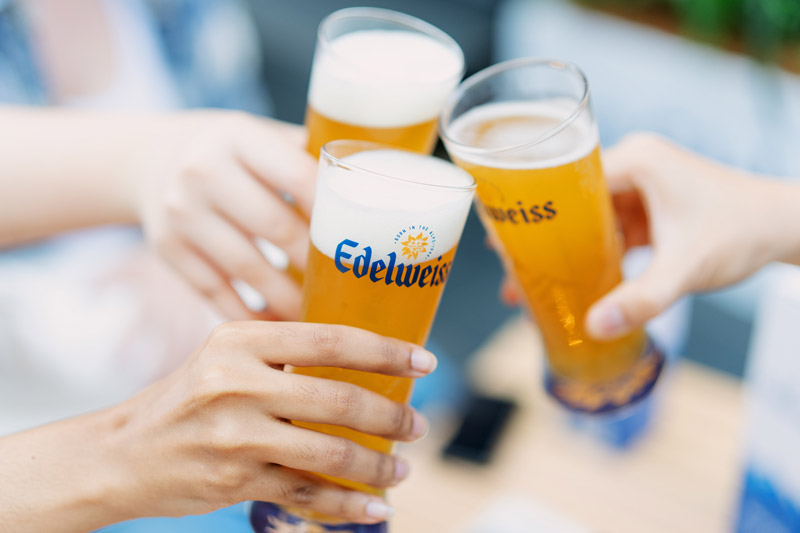 Delicious Edelweiss beer. Prost! 
Edelweiss Malaysia recently organized an awesome event called Chalet Edelweiss UNWIND; a guide to an Alpine-inspired adventure. Being in Malaysia, a feel of the Alps can still be had. One of the best places to experience this is up in the highlands where the weather is cool. Genting Highlands in Pahang is one these places.
The Chalet Edelweiss UNWIND, Feel The Alps event held at the driving range of the beautiful Resorts World Awana Genting Highlands drew in a good vibrant mix of merry people. The driving range transformed into a fabulous camping fun, music, party festival ground; hosting various games and events that kept guests entertained throughout the day. 
Apart from games, music, etc. activities such as yoga and handicraft kept everyone in a chill fun mood. A plethora of delicious foods kept tummies filled and happy up here in the cool chilly weather. Delicious food such as chicken satay, fish and chips, burgers, nuggets, hot dogs, Taiwan sausages, fried noodles, etc. were prepared by Resorts World Awana Genting Highland's Food and Beverage team during the event.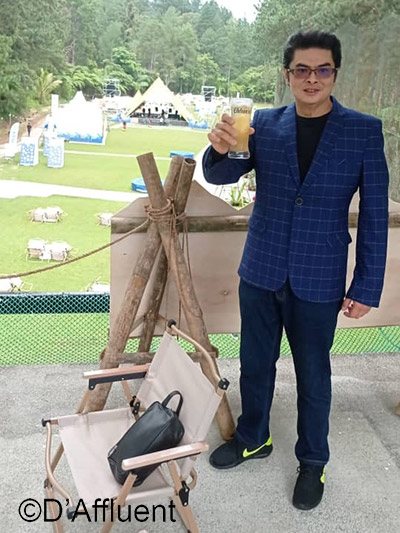 Enjoying a taste of the Alps.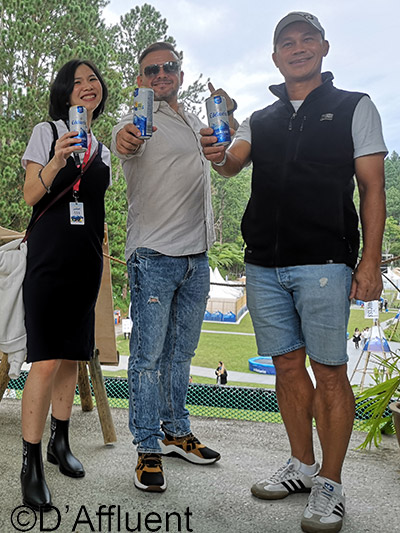 The bosses of Edelweiss Malaysia.
Those who wanted to experience an authentic outdoors style adventure in the Alps can book a stay in one of the glamping tents and get a feel of what it is like to camp out in the cool chilly weather here. Camping out in the cool certainly will be an experience that brings one closer to an Alpine like experience.
One of the highlights here at Chalet Edelweiss UNWIND is the performances from various local and international artists. As day turns to dawn keeping the energy of the place up with various beats and songs are Jeremy Zucker, Crinkle Cut, Dermott Kennedy, Silver Lim, Daaliah, TY:DEL, Lost Spaces, Jemero, Colbie, Vanns Ngo, Karencici, and Xu. While they were all good, my favourite certainly is Jeremy Zucker.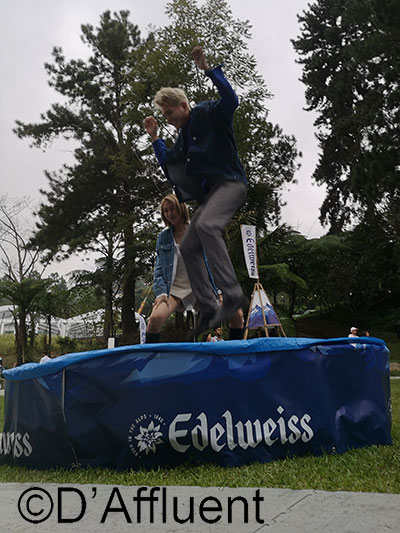 Having fun with Edelweiss; Feel The Alps.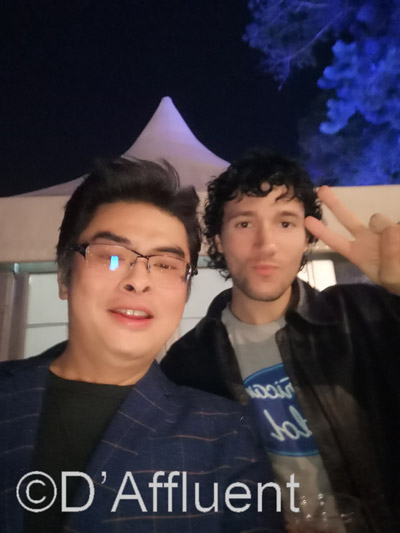 Hanging out with Jeremy Zucker; American Singer-Songwriter.
Nature Activities
Being surrounded by nature, one of the awesome activities organized is the Sustainable Trail Walk, a journey through the montane forest of Resorts World Awana Genting Highlands. Eddie and Pat, the drivers of sustainable nature up here in Genting Highlands spent years taking care of the flora and fauna of these hills. They have built sustainable trails to help visitors appreciate nature better. To me they are the guardians of nature here.
During the event we journeyed on a learning adventure on one of the trails with Eddie and Pat. They shared with us about the fascinating wildlife, plants, and trees up here in this hilly forest. There is even a section of the trail where the forest transitions from low land forest to montane forest. This is where one gets to see plants and trees of both types of forests in one place. A border set by Mother Nature to "draw the line" between low land forest and montane forest.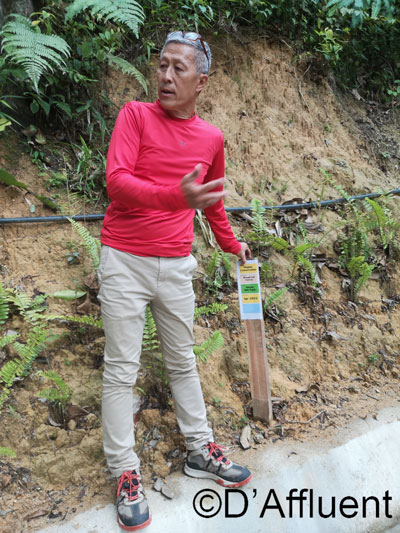 Eddie sharing about the biodiversity of the montane forest up here in Genting Highlands.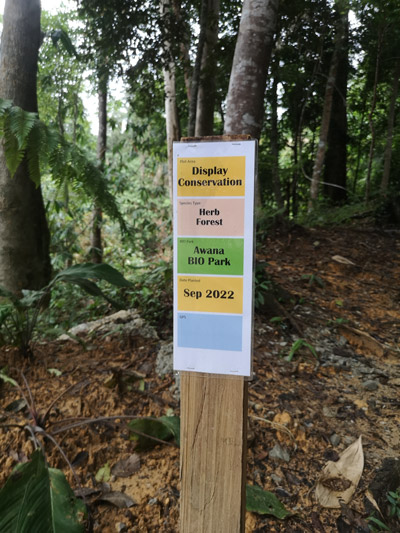 Markers that tell visitors what the plants around the area are.
Being on this educational nature trail I learn many things. My biggest take back is that big leaf plants are very important. They collect water and they keep the environment cool. On our journey, two large bird's-nest ferns (Asplenium nidus) were planted by two participants. This replanting program helps stabilise the soil movements and keep the area cool.
Apart from plants and trees, this montane forest is home to various wildlife including different species of apes, reptiles, wild jungle cats, birds, etc. A few family of gibbons call this forest home. While we did not see gibbons on the trail, we spotted a rather big hornbill gliding through the skies, probably in search for its favourite fruit; jungle figs.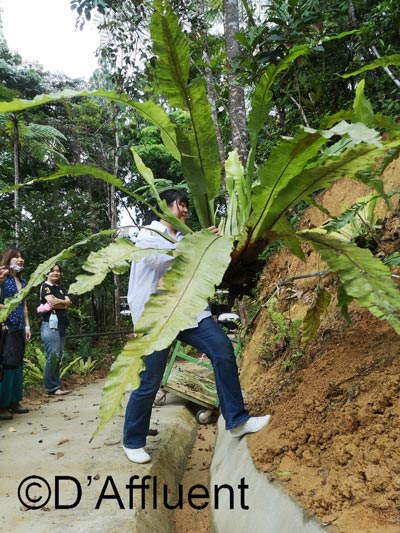 The replanting of a huge bird's-nest fern. Look at the size of these leaves.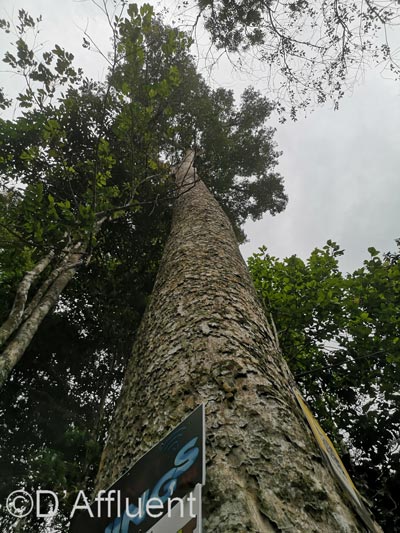 A large lowland forest tree at the border between the lowland forest and the montane forest.
Chilling Out With Edelweiss Beer
Being up here in Genting Highlands enjoying the cool air with a can of Edelweiss Beer in hand is definitely awesome. Edelweiss Weißbier or wheat beer taste really good cold and is refreshing. But what's better than beer? Beer cocktails. I enjoyed an awesome cocktail; a mixture of Edelweiss beer with four types of ginger from around the area. The sweet, fruity, and slightly spicy delightful glass of magical mix is super delicious.
Here at Chalet Edelweiss UNWIND, mixologists were at hand to make two really delicious cocktails using fruits, ginger from Bentong, and delicious Edelweiss beer. For those of you who have not heard of the term "mixologist" before; they are masters of mixing different ingredients and drinks, creating some of the tastiest concoction of cocktails and mocktails. They also know the history of drinks, ingredients used, the whys and hows, and a lot more.
Note: Bentong is a town in Pahang, Malaysia, that is famous for its ginger.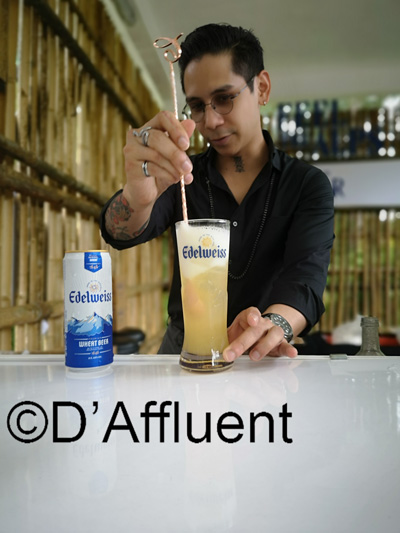 The mixologist doing his magic; making me a delicious cocktail.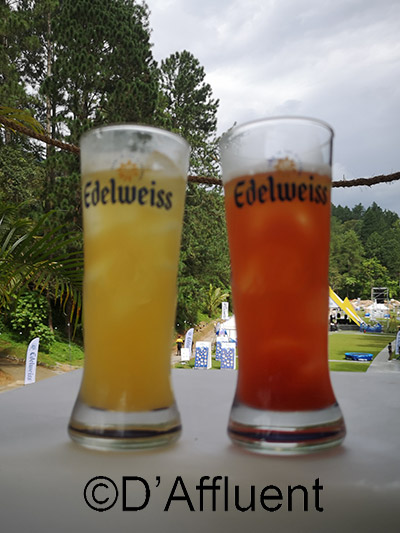 Two delicious cocktails done with a mixture of Edelweiss beer, fruit juices, different types of ginger, etc.
Responsible Event Setup
Another unique point about the Chalet Edelweiss UNWIND, Feel The Alps event is the careful consideration for nature that the event organizers exercised when building up the area. According to Eddie who has been monitoring the event from a nature stand point, he is happy that minimal changes were done to the area. Mainly it was some trimming of the grass and the usage of certain support systems to ensure the least damage to the area.
Recycled bamboo are used to build a lot of the structures. After the event, the bamboo will be reused to support the trails of the forest here. This event also provides an opportunity for Eddie and Pat to study the effects of noise on the wildlife that lives on the fringes of the area. According to Eddie, he believes that the wildlife will not be disturbed as they are used to noise and music. Anyway, he is looking forward to see what results are.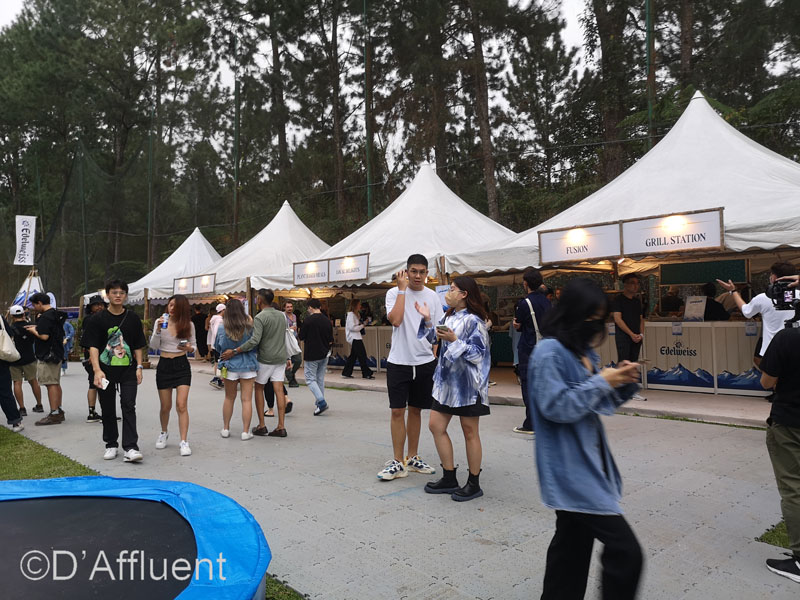 The many food stalls at Chalet Edelweiss UNWIND – Resorts World Awana Genting Highlands.
Where Next?
Word up here in the hills is that Chalet Edelweiss will be heading down south to Singapore really soon. To our friends in Singapore, get ready for some fun and chill time with Edelweiss Beer. As at time of writing, dates are not certain. Or rather, I do not have the dates just yet. Stay tuned for more information. Meanwhile, enjoy a can of Edelweiss Weißbier.
Note: Chalet Edelweiss Unwind carried out all activities in full accordance with the SOPs established following the government's safety rules. Edelweiss and any associated promotions and activations are exclusively available to non-Muslims aged 21 and above. Edelweiss advices all to enjoy responsibly, and don't drink and drive.
Luxury Lifestyle Magazine For The Affluent