Luxury Lifestyle Magazine For The Affluent
Ferrari Daytona SP3 – Technical Specifications
Ferrari's new Icona, the Ferrari Daytona SP3 is a car that brings us back to Ferrari's historical win at the 1967 Daytona 24 Hours race where three Ferraris took the 1, 2, and 3 finish, beating Ford in their own turf. The Daytona SP3 is definitely an awesome car built in limited numbers of only 599 units. 
Read full article Here.
POWERTRAIN
Type: V12 – 65°
Total displacement: 6496 cc
Bore and stroke : 94 mm x 78 mm
Max. power output*: 618 kW (840 cv) at 9250 rpm
Max. torque*: 697 Nm at 7250 rpm
Max. revs: 9500 rpm
Compression ratio: 13.6:1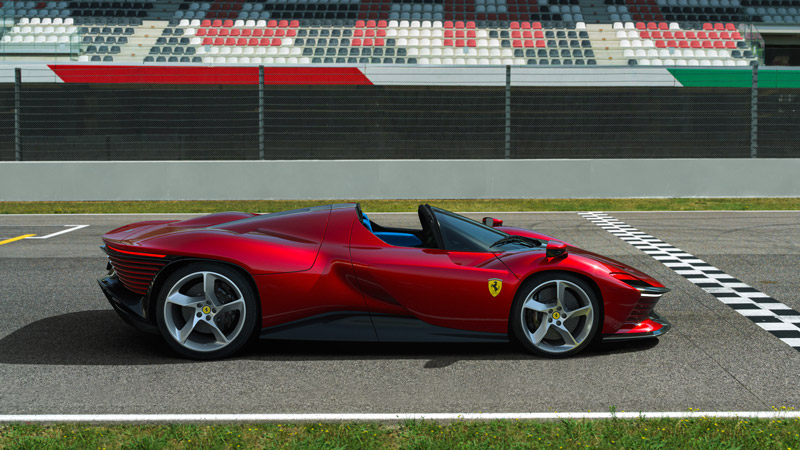 The awesome looking Ferrari Daytona SP3. 
DIMENSIONS AND WEIGHT
Length: 4686 mm
Width: 2050 mm
Height: 1142 mm
Wheelbase: 2651 mm
Front track: 1692 mm
Rear track: 1631 mm
Dry weight**: 1485 kg
Dry weight/power ratio **: 1.77 kg/cv
Weight distribution: 44% front / 56% rear
Fuel tank: 86 litres
TYRES AND WHEELS
Front: 265/30 ZR 20 J9.0
Rear: 345/30 ZR 21 J12.5
BRAKES
Front: 398 x 223 x 36 mm
Rear: 380 x 253 x 34 mm
TRANSMISSION AND GEARBOX
F1 dual-clutch gearbox, seven speed
ELECTRONIC VEHICLE CONTROLS
ESC; high performance ABS e/EBD; F1-Trac; e-Diff 3.0; SCM-Frs; SSC (Side Slip Control) 6.1
PERFORMANCE
Maximum speed: >340 km/h
0-100 km/h: 2.85 s
0-200 km/h: 7.4 s
FUEL CONSUMPTION AND CO2 EMISSIONS
Under homologation
* Engine power expressed in kW in line with International System of Units (SI) and in cv. With 98-octane petrol and including 5 cv of dynamic ram effect
** with optional lightweight content
*Photos and information courtesy of Ferrari S.p.A
Luxury Lifestyle Magazine For The Affluent