Luxury Lifestyle Magazine For The Affluent
Mercedes-Benz Fashion Week Berlin September 2021
Mercedes Benz has been working with fashion designers and showcasing their works since 1995, in various places including Russia, Mexico, Madrid, Tbilisi and Berlin. 
While most people are grasping with the hows, whats, whens, whys, etc. of this global pandemic; some people are taking life in positive strides. One of them is Florentina Leitner, a young Austrian making headways in the fashion industry.
After graduating with a master's degree from the Royal Academy of Fine Arts in Antwerp, she started working for Dries Van Noten as a womenswear designer, before she founding her own label in London. Stars like Kylie Jenner, Lady Gaga and Charli XCX have worn her creations
Design for a vacation on the moon.
Recently (September 2021) she showed her spring/summer 2022 collection from her London label called "Vacation On The Moon" at the Mercedes-Benz Fashion Week in Berlin's Kraftwerk. The inspiration of came Mondsee Lake in Austria with her vision of designing the collection for a holiday on the moon. Perhaps Sir Richard Branson's, Elon Musk's, and Jeff Bezos' space tourism ideas have something to do with this.   
The designs from "Vacation on the Moon" include silhouettes that are inspired by dirndls, sailor jackets and spacesuits. The colour palette is defined by metallic silver tones and a mix of summery colours like pink and various shades of blue.
Metallic silver tones draped with black rose motif. 
During an interview Florentina Leitner says that "The MBFW Berlin Show is really special for me, and not only because it is my first catwalk presentation for a live audience." She continued "I was only able to show my last two collections digitally, because of the pandemic. Presenting at an MBFW is something up-and-coming designers dream of, and Mercedes-Benz has now made it come true."
Metallic silver tones draped with black rose motif.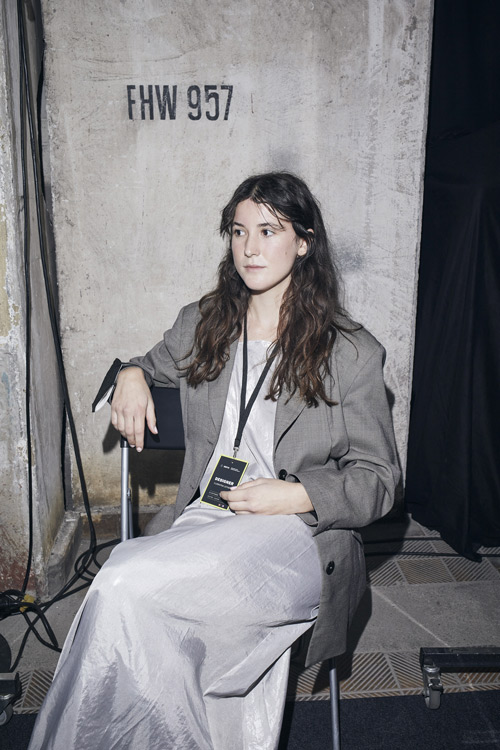 Florentina Leitner is an Austrian fashion and knitwear designer based in London. She attained her master's degree at the Royal Academy of Fine Arts Antwerp in Fashion Design (2020). Her brand is defined by its young, fun, and brave designs. She works a lot with up cycling old vintage products and left overs of big fabric stocks to reduce the ecological footprint.
*Photos courtesy of Mercedes-Benz AG
Luxury Lifestyle Magazine For The Affluent