Luxury Lifestyle Magazine For The Affluent
"It's not what you look at that matters, it's what you see." ―  Henry David Thoreau
Art means different things to different people. A beautifully translated canvas is an outflow of the essence from within the minds of the artist that connects to the minds of the observer through the eyes. The same masterpiece evokes different feelings, ideas, and even languages to those looking at it. That is the wonder of art.
If you are into art, SelTA, short for Self-Taught Artists Association will be holding an exhibition at The Linc KL (Kuala Lumpur, Malaysia) from 1st – 31st December 2021. Serenity Art Exhibition will be showcasing a total of 35 artworks from 10 self-taught artists from different professions and backgrounds.
Note: Those who are unable to visit Serenity Art Exhibition can view the artwork and artists at the exhibition's e-Catalogue, here.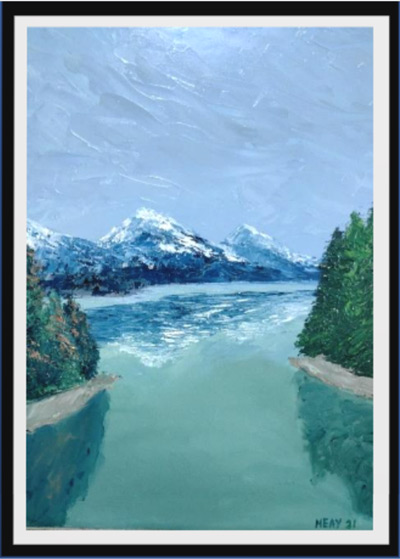 Serenity – Oil on canvas, by Yink Heay.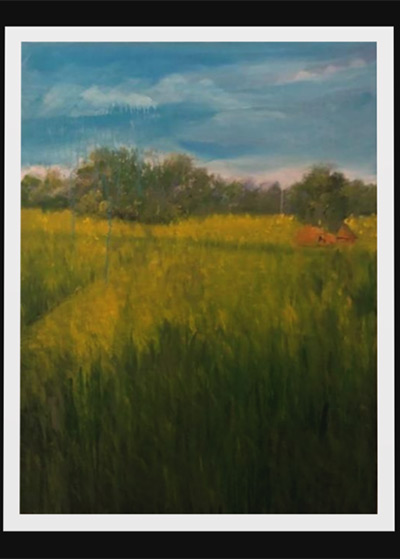 Places In The Heart – Acrylic on canvas, by Jimmy Khalil.
Introducing Selta
SelTA Enters the Malaysian Art Scene
In 2019, a group of artists who love the arts but have no formal education in the subject, decided to get together.
Calling themselves SelTA, short for Self-Taught Artists Association, they reckon that since they come from diverse educational backgrounds like architecture, accountancy and aviation, to name some; sharing their work experiences would be beneficial for their art. The idea was also to improve themselves.
As a matter of interest, SelTA is also the name of a species of butterfly in the Lycaenidae family – Arhopala selta, a.k.a. reddish-brown oakblue – described by William Chapman Hewitson in 1869. It could be found in the Indo-Malayan realm.
Like a butterfly breaking out from a cocoon, SelTA members hope to transform and spread their wings and fly into the colourful world of art.
Should you wish to know more about SelTA and keep abreast with their activities and developments may do so on Instagram and Facebook – Facebook/ Instagram account: SelTAArtistAssociation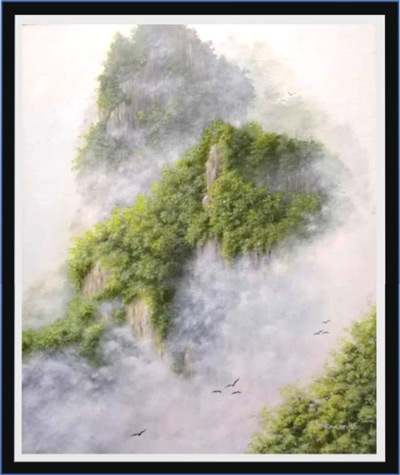 Titiwangsa 4 – Oil on canvas, by Alimbudin.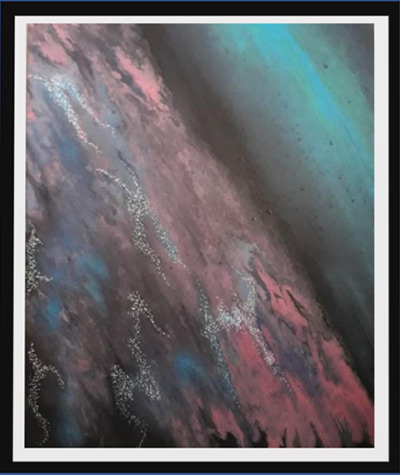 Earth Meets Heaven Series 2 – Acrylic on canvas, by Harlina M. Ali.
Get Acquainted With SelTA Artists
Mariam Jamaluddin (also known as Marja) is the founder of SelTA. She is an architect turned painter with a preference for landscape and abstract paintings. With no formal education in art per say, she started painting in early 2018 and has since participated in a few exhibitions within Malaysia.
Abdul Halim Budin (also known as Alimbudin) was a former national bodybuilding coach before going into painting as a self-taught artist. He has participated in a few joint exhibitions and was once awarded the title of 'A breakthrough Artist' at one of the exhibitions.
Cumulous Cloud – Acrylic on canvas, by Marja.
Yink Heay, a science graduate and now a market researcher, self-learned oil paintings in 2011 after being inspired by one of Van Gogh's masterpieces. In the last 10 years, she has exhibited her works at several exhibitions and has sold over 50 paintings locally and internationally.
Harlina M. Ali, also an architect, finds solace in painting as a means of escapism, initiated by her artistically-inclined training abroad. Inspired by natural environment, she translates her visions with an abstract approach.
Dzulkilfi Zakaria (also known as Dzul) was working in the airline industry, Currently, he creates art as a hobby. He likes to paint mainly semi abstract pieces using oil or acrylic on canvas. This is his first art exhibition and he is looking forward to showing more of his paintings in the future.
Zulya Dzulkefli, who spent her first 27 years in New Zealand, has always been inspired by nature. Due to her background in graphic design, she works on a wide range of mediums from digital and acrylic to oil in a variety of styles, leaning heavily on the use of bold colour and shading.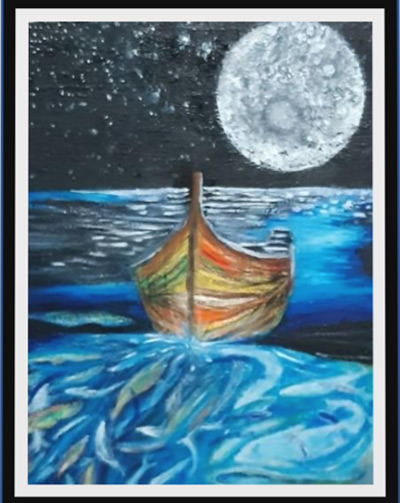 Drifter – Oil on canvas, by Dzulkefli Zakaria.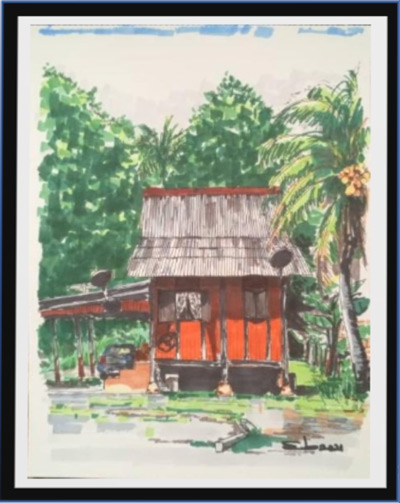 A Traditional House In Lukut – Colour Marker on paper, by Eddie B.
Jimmy Khalil, an architect by training and a business degree holder from the UK, is a self-taught artist who grew up and has lived in Ampang since the 60s. He specializes in fine art pencil drawings but is equally adept at acrylic and oil paintings. He has contributed illustrations to magazines locally and abroad.
Marissa Bany, a Mass Communications graduate, started 'Art with Alaska' as an outlet to put out her feelings on a canvas, and now it has become a larger part of her life. The art that she makes is mostly inspired by the music she listens to, the movies she likes, and the people she has met. It goes beyond colours or strokes of the brush – it's life as she sees it.
Daud Yusof, a Chartered Management Accountant by profession from CIMA, London, is now allowing his love for art to figure in the horizon. Strongly passionate in garden landscaping, he had won numerous competitions in garden landscaping in Malaysia. As a self-taught artist, he now expands the horizon to explore his creativity in painting.
Abdul Ahmad Bukhari bin Mahdi (artist name: Eddie B.) is a self-taught artist based in Port Dickson. He uses the mediums of watercolour and colour markers to paint the various subjects that resolve around him such as animals, sceneries, landscapes, cityscapes, townscapes and buildings.
Make Time To Visit
If you are a connoisseur of art, or have a passion for art, or perhaps just like art; do make it a point to visit Serenity Art Exhibition at The Linc KL, from 1st to 31st December 2021.
Address: The Linc KL, 360, Jln Tun Razak, Taman U Thant, 50400 Wilayah Persekutuan Kuala Lumpur, Malaysia.
*Images courtesy of SelTA (Self-Taught Artists Association).
Luxury Lifestyle Magazine For The Affluent