Luxury Lifestyle Magazine For The Affluent
TUMI Unveiled its Fall 2023 Collection in Malaysia with a Star-Studded "Essentially Beautiful" Event
◙ By D'Fasionista  |  TUMI Malaysia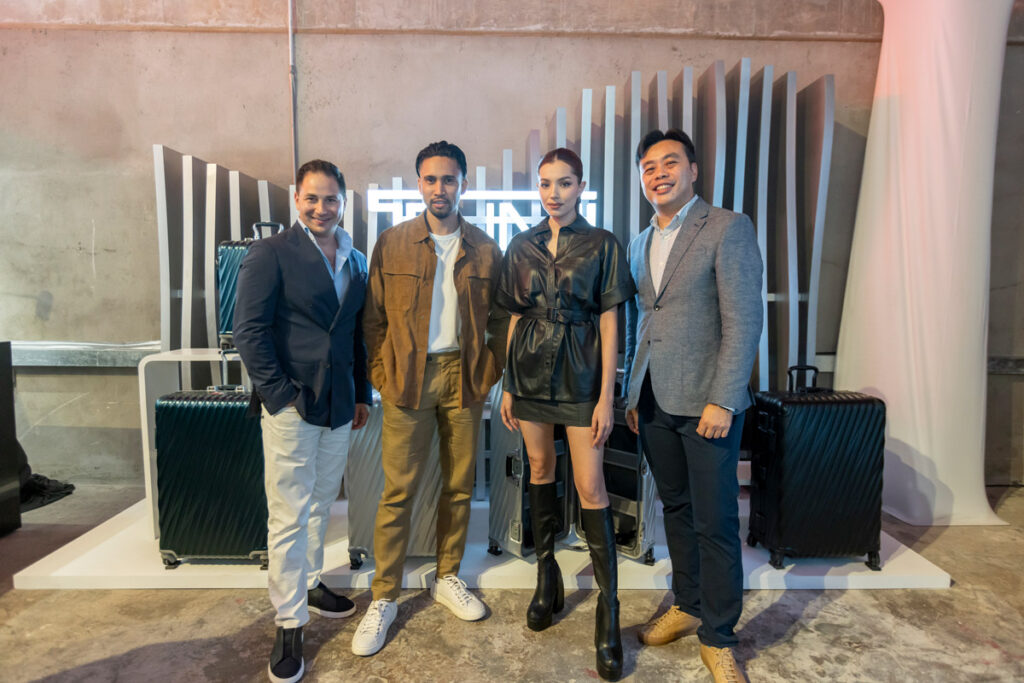 (L to R): Adam Hershman, TUMI Vice President of Asia Pacific and Middle East, actor Idris Khan, actress and model Amelia Henderson, and Randy Wong, TUMI General Manager of Southeast Asia.
Kuala Lumpur, August 4, 2023 – TUMI debuted its Fall 2023 Seasonal Collection at Ilham Tower in Kuala Lumpur on August 3, 2023 in the presence of celebrity guests and high profile friends of the brand, including some of the country's leading media and social influencer stars. Attending celebrities included actress, model and longtime TUMI fan, Amelia Henderson who enjoyed previewing the iconic 19 Degree Collection and especially liked the 19 Degree Aluminum travel cases in brand-new Dark Denim. Meanwhile, actor Idris Khan was spotted testing out TUMI's new high-performance collection, Alpha X. Crafted from PX6, TUMI's most durable fabric to date, Alpha X features a unique combination of high strength, high modulus, toughness and thermal stability.
"Featuring TUMI Crew members: Formula 1 driver Lando Norris, pro-footballer Son Heung-min and acclaimed singer-songwriter and actress Reneé Rapp…"
TUMI 19 Degree Collection. 
Hosted by Sarah Lian, the event was also graced by actors Azrel Ismail and Malek McCrone, as well as popular singer Cik Manggis and athlete Syazmin Firdaus, and top influencers Brian See and Lucas Lau among others, who added star-studded allure to the party. Set within the  impressive, sculptural interior of Ilham Tower to the high energy beats of DJ Ashley and DJ LZZY, TUMI's Fall 2023 Collection Launch brought guests on an immersive journey exploring TUMI's Hypercraft design concept. Defined as being hyper-focused on quality and high performance through elevated craftsmanship and innovation, Hypercraft perfectly characterizes TUMI's approach to design, setting the tone for the season.
As well as previewing the key collections, guests were treated to a viewing of TUMI's new Fall 2023 Campaign "Essentially Beautiful". Featuring TUMI Crew members: Formula 1 driver Lando Norris, pro-footballer Son Heung-min and acclaimed singer-songwriter and actress Reneé Rapp, the campaign videos brought TUMI's Hypercraft concept to life, illustrating how the true beauty of TUMI's products lies in its sophisticated design details that result in outstanding performance.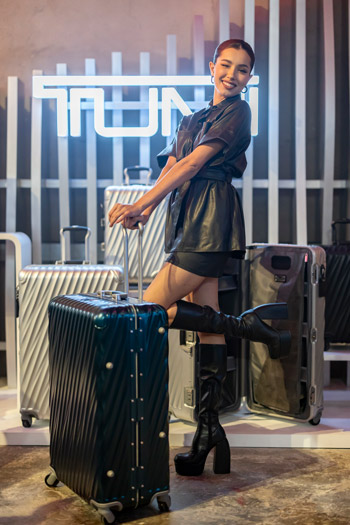 Amelia giving the iconic 19 Degree Aluminium Collection in this season's Dark Denim colorway her approval.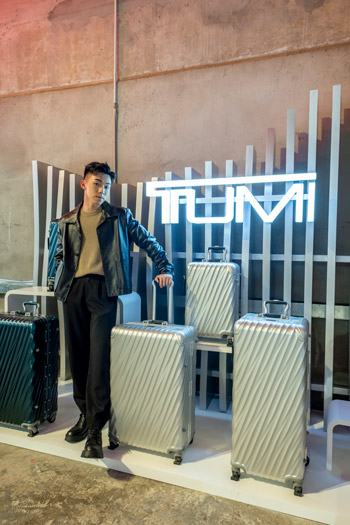 Joe Shiang previews the silver 19 Degree Aluminium.
Key highlights of the season include TUMI's 19 Degree Collection, which was displayed against an impressive backdrop inspired by the collection's signature contours and cutting-edge craftsmanship. 19 Degree is TUMI's most iconic hardside collection, courtesy of its elegant yet striking sculptural exterior, effortless maneuverability and durability.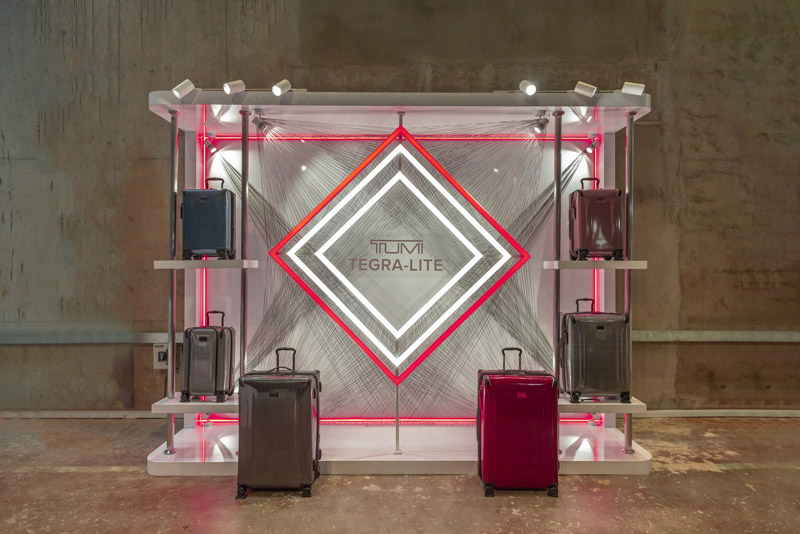 The Tegris thread – an exceptionally strong material used in the Tegra-Lite® hardside travel cases – which makes them even tougher and more durable was on display .
Adding further to the wanderlust vibe, guests were able to experience TUMI's latest collection launch, Alpha X, displayed against an instagrammable X-themed wall. Elsewhere, guests at the Tegra-Lite® zone were treated to another TUMI innovation with a collection of travel cases made from Tegris, an exceptionally strong yet lightweight material. Guests took photos with key pieces that were set against an intricate Tegris thread wall inspired by the complex weave design of the collection.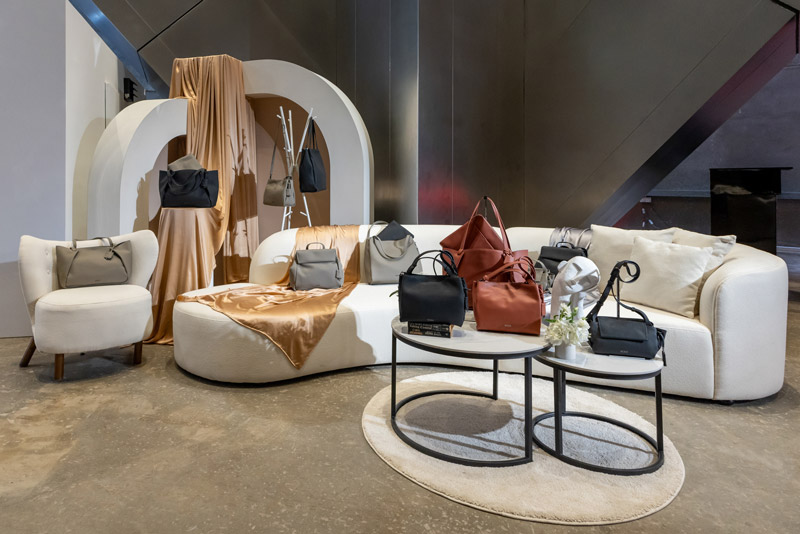 The sophisticated style and lightweight functionality of the Georgica Collection.
Continuing to dial up the style factor, TUMI welcomed guests into the Georgica zone to showcase the brand's latest women's offering. Set in a minimalist boudoir-inspired room exuding quiet luxury, TUMI's Georgica Collection features a range of sophisticated silhouettes in Black and Taupe natural grain pebbled leather. Terracotta was also featured as a fresh pop of color for the season in buttery soft smooth leather.
Color and personalization are important for fans of TUMI when it comes to representing interests, values, and personal style.
Embracing the modern traveler's thirst for personalization, TUMI displayed a vibrant Fall color story that set the stage for an unforgettable journey. Fresh seasonal colorways were seen in the popular Harrison Collection in alluring Dark Nevado Grey and Navy Liquid Embroidery, while the beloved Voyageur Collection introduced sophisticated Pearl Grey and Indigo colorways, delighting those with a passion for bold hues. Meanwhile, lovers of pink reveled in Voyageur's seasonal palette of Deep Plum with striking black trim and gunmetal accents, the enchanting Dusty Pink with light gunmetal hardware, and Navy Liquid Print adorned with silver hardware.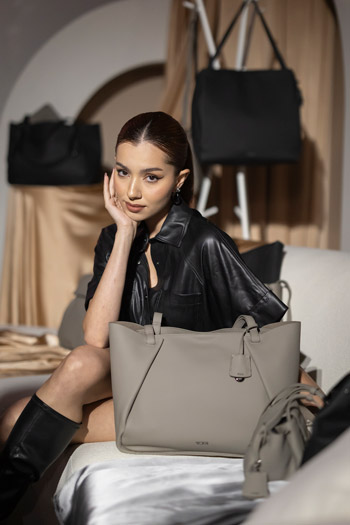 Amelia posing with a versatile and awesome bag from TUMI's Georgica Collection.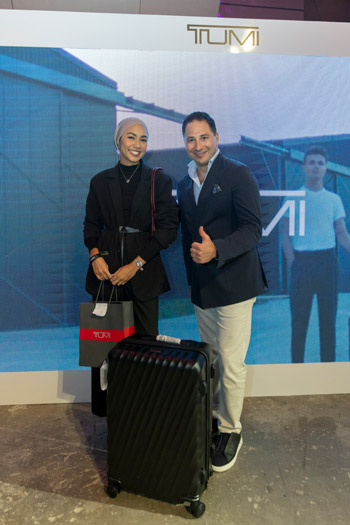 Winner of the 19 Degree Short Trip Expandable 4-Wheeled Packing Case grand prize with Adam Hershman.
Guests took home exclusively illustrated TUMI luggage tags in Pearl Grey or Deep Ocean featuring designs inspired by travel, while five lucky winners also received highly sought-after TUMI prizes, including a 19 Degree Short Trip Expandable 4-Wheeled Packing Case as the grand prize.
Randy Wong, TUMI's General Manager for Southeast Asia was in attendance at the event and shared: "We are delighted to be presenting our new Fall 2023 Collection to our friends and fans here in Kuala Lumpur. Malaysia has always been a very special market for TUMI with a strong appreciation for our performance luxury positioning and our commitment to design excellence and innovation. We are thrilled to see the renewed excitement and energy around travel and we are looking forward to perfecting the journeys of even more customers in Malaysia and beyond".
The new Fall 2023 Collections are now available at TUMI stores and TUMI.MY
Luxury Lifestyle Magazine For The Affluent